JOIN THE CLUB
CGDEI Chair Kay Davis is hosting an online book club that is a perfect way to stay connected in the off-season and to continue imperative discussions on systematic racism and "other-isms" that our community members are eager to learn more about. 
Visit www.grovebookclub.com for more details.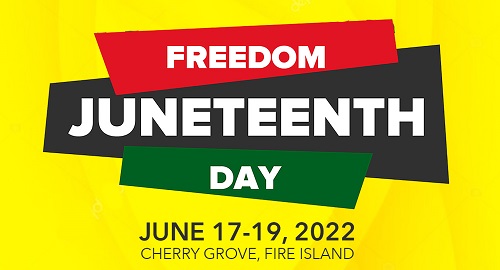 JUNETEENTH 2022
We have already begun planning our participation in this year's Juneteenth
Join us for celebrations and education all weekend at the community house. June 17-19, 2022
And please email us if you'd like to be a volunteer.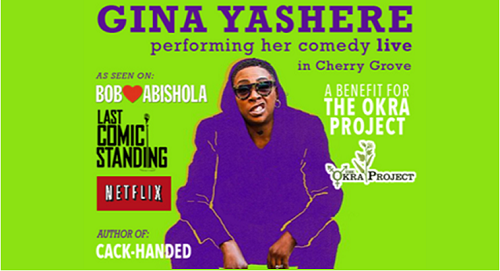 GINA YASHERE LIVE JUNE 18
Gina Yashere live at the community house
Saturday June 18th, 2022 @ 8:00 PM, a benefit for The Okra Project.
Tickets available only at the Community House, June 18 from
12 Noon – 4:00 PM. Limit 2 tickets per person. $25
OUR STORY
Cherry Grove is a unique and special community. We have a long history of being a safe haven when others have been less welcoming. In 2021, a Diversity, Equity and Inclusion committee, comprised of community members, was formed to make our sanctuary even better.

As a group of Grove residents, we believe that we can facilitate thoughts, discussions and activities that can help everyone grow. Cherry Grove is a community that aims to create safe spaces and all our D.E.I. Committee members have served on various groups, committees and boards in the Grove, doing work to expand our knowledge of living in a more inclusive and mindful beach hamlet.
We hope that our deep connections to the community will help forge new foundations and we pledge to stand in solidarity with anyone who seeks to expand the understanding of what it means to be truly welcoming to everyone.
Let's all work together to help each other make
all
our goals for Cherry Grove's future a reality.
We want a community where safety is a luxury that all our resident and visitors can experience.
We want growth through honest conversation and thought-expanding education.
We want to create spaces in which those who feel marginalized have a voice.
Promote and celebrate diversity, equity, inclusion, and multiculturalism throughout our community.

Provide everyone in our community with a supportive safe space to learn and facilitate constructive dialogue,

Collaborate with other groups and organizations in the ongoing pursuit of an inclusive, equitable, and diverse community environment.